SYNC XPERIENCE: Connecting Your Music To TV and Film
July 14 @ 3:00 pm

-

5:00 pm

PDT
Think of this as a SYNC open house! Event for music creators to learn about music licensing for tv, film, advertising and video games.
Get your pass to Sync Xperience: Connect Your Music to TV and Film digital event before it runs out!
Sync Xperience is a virtual event for music creators to network and learn about music licensing for tv, film, advertising and video games.
Registration is required to attend.
The speaker for this event is:
Sarah Ponder, Music Director, APM Music
Sarah has had a lifelong passion for music and the arts. She has worked in the music department as a Coordinator and Supervisor for Reality and Scripted Television, Theatrical Marketing and independent features. She currently works in-house as a Music Director at APM, where she is able to explore and cultivate her love of music for a diverse array of content. APM Music is the world's leading creative music house and production music library, with the largest, deepest and broadest music collection in the industry.
How should you prepare:
Have a pen and paper/journal with you to take down notes
Have an open mind to learn
Ensure that you're in a quiet space to stay focused and free from distraction
BRING YOUR QUESTIONS!
This event is brought to you by The Sync Community. The Sync Community is a robust online music licensing community (by Sync Con), exclusively for music creators (music producers, songwriters, publishers, composers, etc) to succeed in licensing their music into tv, film, ads, video games, by providing continuous teaching (video and audio), mentorship & guidance, networking opportunities, newsletter & industry updates, occasional placement opportunities, and more! All with top music supervisors and industry leaders.
The online sync community is created by Sync Con, a music in film and tv conference. For more information, visit www.sync-con.com
Follow the Sync Community on Instagram at @thesynccommunity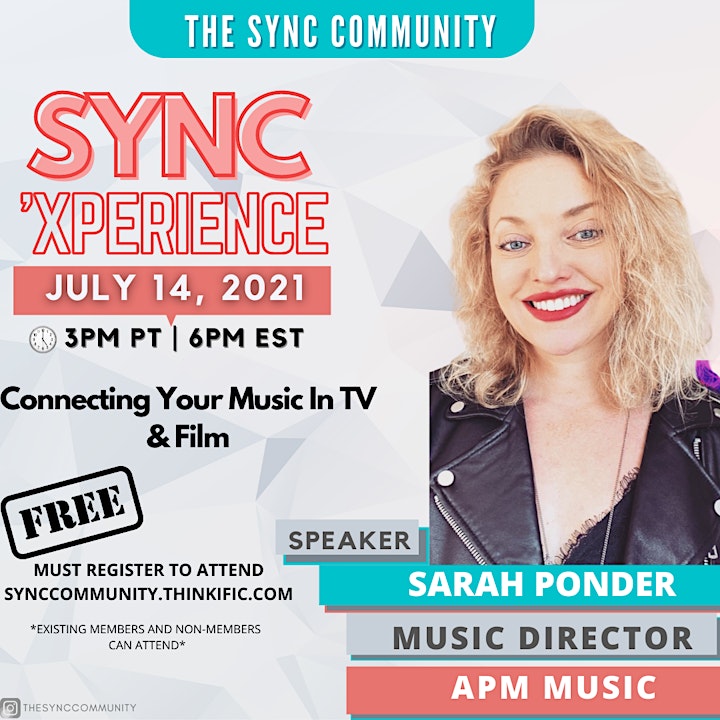 The Sync Community shall also be launching it's:
SYNC LICENSING MASTER COURSE – Building a successful music licensing company/career
This Master Course would be available at the Sync Community website on July 15 2021!
CLICK HERE TO JOIN THE WAITING LIST TO GET FIRST ACCESS AND GUARANTEED DISCOUNTED CODE OFF THE COURSE REGISTRATION!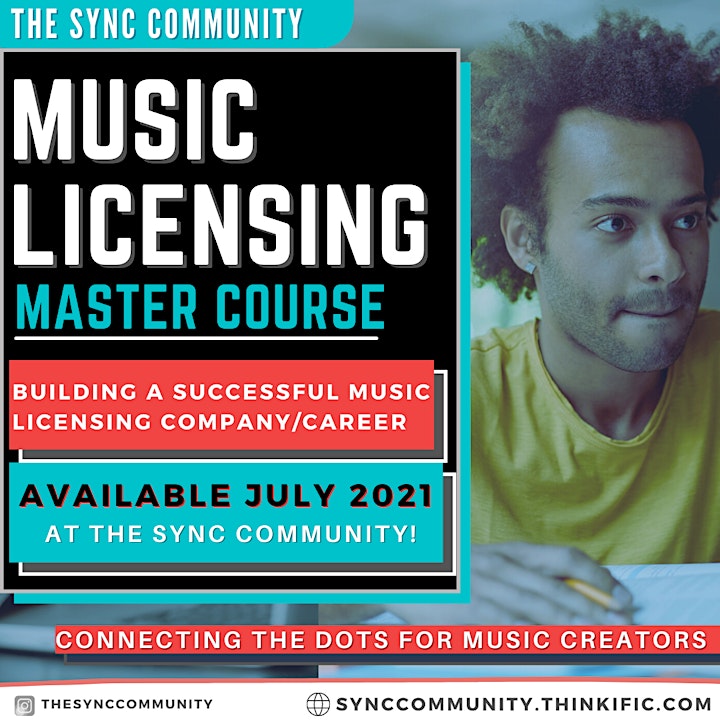 The Sync Community is the online community by Sync Con, a music in film and tv conference. To learn more about Sync Con, visit www.sync-con.com
Related Events