POPULAR MUSIC FUTURES/VIRTUAL SPEAKER SERIES – IASPM-Canada 2021/2022
December 6, 2021 @ 3:30 pm

-

June 3, 2022 @ 11:00 pm

EST
POPULAR MUSIC FUTURES/VIRTUAL SPEAKER SERIES
IASPM-Canada Speaker Series (2021-22)
French follows…
IASPM-Canada proudly announces its new, online speaker series. Each month, a wide range of speakers will engage with emerging research in the field of popular music studies. This year the series runs on the first Monday of each month, starting in October.
RSVPing to this event provides you with a one-time registration for all of our upcoming events. Full line up will be announced shortly.
—————————————————————————
THE 2021-2022 POPULAR MUSIC FUTURES/VIRTUAL SPEAKER SERIES
DATE: The first Monday of each month from October 2021 to March 2022.
TIME: 3:30 pm ET
WHERE: Zoom – Please RSVP and a zoom link will be sent to your email the day before the event.
—————————————————————————
OUR THIRD EVENT – December 6th, 2021
Three IASPM members will present talks on December 6th, 2021. Each talk is 20 minutes with a Q&A session.
Between Taboo, Lack, Pleasure and Pride: Exploring Deaf Montrealers' Notions of Music – Line Grenier, Université de Montréal and Jennifer Manning
'Taylor's Version': Valuing and Devaluing Music – Paul Théberge, Carleton University
Those Days Are Gone Forever: Steely Dan's Grumpy Old Guys' Blues – Kevin Fellezs, Columbia University
Moderator: Keir Keightley
—————————————————————————
LE FUTUR DE LA MUSIQUE POPULAIRE/ PRÉSENTATIONS VIRTUELLES
Série de présentations de l'IASPM-Canada (2021-22)
L'IASPM-Canada est fière de vous annoncer une nouvelle série de présentations qui se dérouleront de manière virtuelle. À chaque mois, un groupe varié de conférenciers participeront à des discussions sur la recherche émergente dans le domaine de la musique populaire. Cette année, chaque présentation aura lieu le premier lundi du mois. Les rencontres débuteront au mois d'octobre.
Votre réponse à notre invitation vous donnera accès à tous les événements à venir. Une liste complète des présentations sera disponible sous peu.
PRÉSENTATIONS 2021-2022 LE FUTUR DE LA MUSIQUE POPULAIRE/PRÉSENTATIONS VIRTUELLES
DATE : Le premier lundi de chaque mois. D'octobre 2021 à mars 2022.
HEURE: 3:30 pm EST
LIEU : Zoom – En confirmant votre participation à cette série un lien vous sera envoyé la veille de l'événement.
—————
Conférenciers pour notre événement du 6 décembre 2021 :
Between Taboo, Lack, Pleasure and Pride: Exploring Deaf Montrealers' Notions of Music – Line Grenier, Université de Montréal and Jennifer Manning
'Taylor's Version': Valuing and Devaluing Music – Paul Théberge, Carleton University
Those Days Are Gone Forever: Steely Dan's Grumpy Old Guys' Blues – Kevin Fellezs, Columbia University
Moderator: Keir Keightley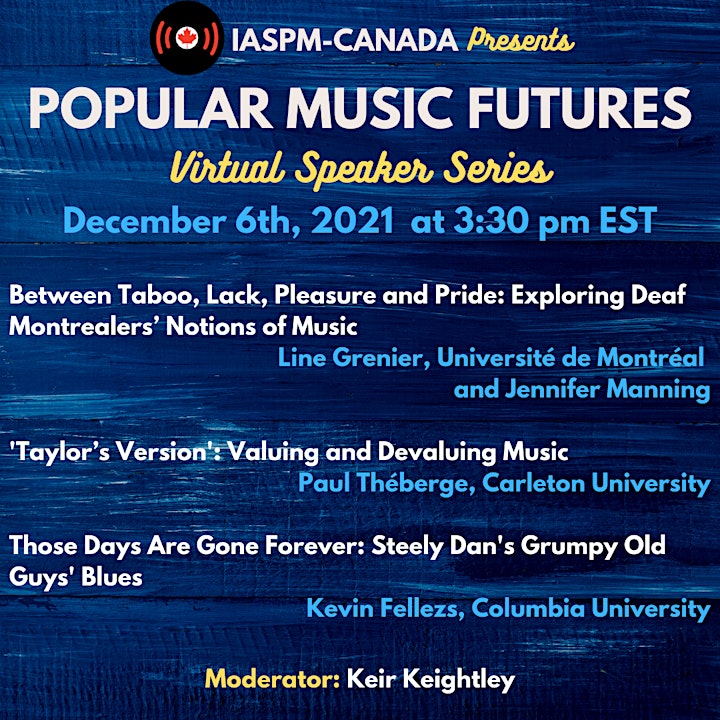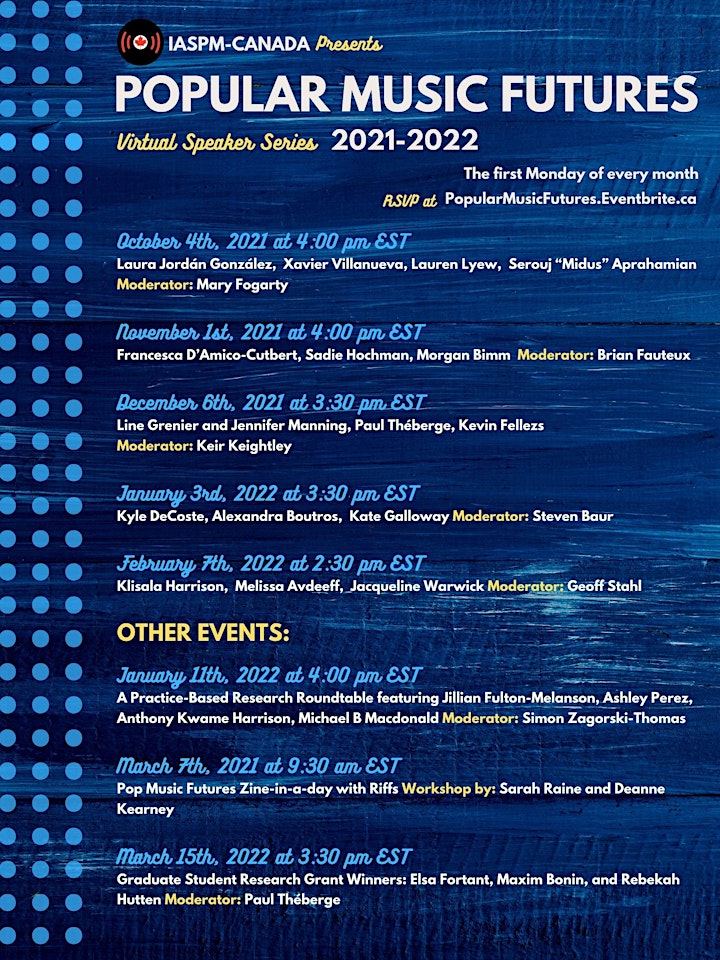 Related Events