Music To My Heart: weekly Zoom sessions for music & mental health
March 30 @ 12:00 pm

-

April 20 @ 1:00 pm

EDT
Weekly listening & learning sessions for music lovers in mental health recovery
Music can speak to the heart—and that's music to our ears!
Let's use music as a path for connection & personal growth. No prior musical skill is needed—just a love of music and a desire to connect with others in mental health recovery!
———
4 Wednesdays, 12-1pm ET via Zoom
Mar 30, Apr 6, Apr 13, Apr 20
Future sessions to be announced, including an in-person option!
———
At Music To My Heart, you will have the opportunity to:
Meet weekly for 4 weeks via Zoom (Then join us for the next session if you like!)
Bring your whole self by joining a community of others who are journeying with mental health recovery.
Learn fun and new things to help expand your musical palate, your love of music, and your knowledge—whether the artist of the week is an old favorite, or totally new to you! Each week will include a short presentation and time for sharing among participants.
Meet supportive and welcoming facilitators and peer leaders.
Connect within a small group in a safe and encouraging environment.
Share what you love about music! Our facilitators will bring music that inspires them, and we hope you'll share about the music that inspires you, and help shape future session topics.
In this session, we'll explore the lives and music of:
Mar 30: Joni Mitchell
Apr 6: Nina Simone
Apr 13: Ray Charles
April 20 — Wildcard! This session will be based on what comes up in the prior sessions—what are folks excited about or inspired by? Bring your musical enthusiasm to the prior sessions to help shape the agenda for the "wildcard" wrap-up session 🙂
ABOUT YOUR HOSTS:
This is a new program hosted by Tunefoolery, a 25-year-old Boston-based nonprofit for people in mental health recovery. While most of Tunefoolery's offerings are for people with existing musical skills, this new program expands our community to welcome anyone who loves music. Tunefoolery aims to foster a different way of thinking about mental health recovery: one that looks beyond symptom management and focuses on each person's talents and potential. The healing process for people in mental health recovery can be a very painful journey where traumatic experiences and shortcomings often become the focus. In Tunefoolery, we use music, creativity, education, paid work, and a loving community as a way to transform people's lives.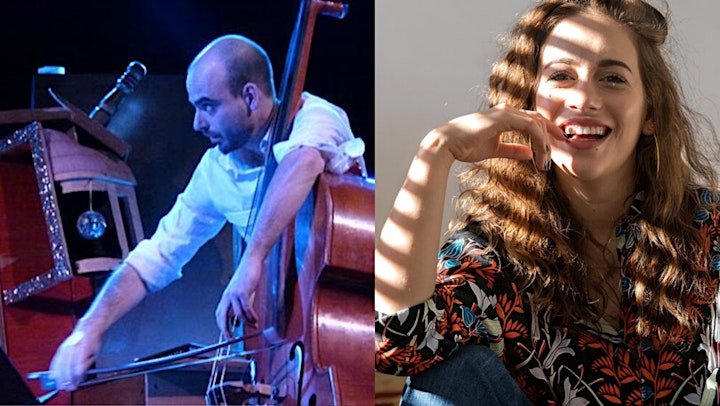 Music To My Heart will be led by Anthony (Tony) Leva and Delfina (Delfi) Cheb. Tony and Delfi are really looking forward to welcoming you!
Anthony Leva is a multi-disciplinary artist and educator in Cambridge, MA. He is the Community Music Director for Tunefoolery, a non-profit dedicated to a unique and courageous community of musicians in mental health recovery. Primarily a self-taught bassist over the last 20 years, Anthony has continually sought unique opportunities for study. He also earned a Master's Degree in Modern American Music from the Longy School of Music at Bard College.
From Tony: "I'm looking forward to Music To My Heart because I love listening to music with others and I find it can be a very connecting experience—even listening to a song with your friend in a car is different from listening by yourself. I find that music is a metaphor for life — there is so much I can learn about myself and about others by listening to music together."
Delfina Cheb studied Jazz composition and Voice performance at Berklee College of Music and is now earning her Master's at New England Conservatory (NEC). Through NEC's Community Performances & Partnerships program, Delfina has led songwriting workshops for through Tunefoolery and the NEC Virtual Senior Choir @ Fenway for LGBT Seniors.
From Delfi: "I am excited about Music To My Heart because I feel that one of the most valuable ways to learn about any aspect in life is by building community and sharing with peers. Learning about music and sharing music with others is really a gift."
Related Events