From Messages to Real Change: A Talk with Comms Leaders in Social Justice
May 27 @ 5:00 pm

-

6:00 pm

EDT
ColorComm Presents: How to Move from The Message to Real Change: A Candid Conversation with Nation's Leading Communicators in Social Justice
About the Speakers
Minyon Moore is considered one of the nation's top strategic thinkers with extensive experience in political and corporate affairs, as well as public policy. She leads DSG's State and Local Affairs and Multicultural Strategies practices with clients ranging from the Fortune 100 to startup non-profits seeking counsel for developing strategies that address emerging consumer markets and achieve public policy goals.
Aba Blankson is a visionary executive, and the current Chief Marketing and Communications Officer for the NAACP. Under her leadership, the NAACP launched initiatives such as the "COVID Unmasked" virtual event series to raise awareness of pandemic impacts, the "Stop Hate for Profit" coalition campaign to hold tech companies accountable, and the 2020 Davey Award-Winning campaigns #WEAREDONEDYING and Virtual March on Washington to bring attention to longstanding racial disparities.
Arisha Hatch is the Vice President and Chief of Campaigns at Color Of Change, leading campaigns on civic engagement, voting rights, criminal justice, and corporate and media accountability. Since joining Color Of Change in 2012, she has ushered in some groundbreaking victories for Black communities: getting payment processors like Mastercard and PayPal to ban the use of their platforms by white supremacists and persuading Saturday Night Live to add two Black women to its cast and writer's room mid-season.
Cheryl Cato Blakemore is Vice President, Strategic Communications and Public Engagement at Race Forward, one of the nation's leading racial justice nonprofits, celebrating its 40th Anniversary this year. She has extensive experience in leading communications, marketing and audience engagement strategy, plans, projects, and teams in nonprofit organizations.
Lecia Brooks is the chief of staff for the SPLC, where she provides counsel to senior leadership, assists with strategic planning and works with people from across the organization to ensure the SPLC's success, whether it is achieving long-term goals or maintaining effective daily operations. Brooks joined the SPLC in 2004, has a wealth of experience in diversity advocacy training for corporations and nonprofit organizations, including Walmart, Lyft, Pixar, the Salzburg Seminar, and the Newark Public Library.
Rachel Noerdlinger is a Partner at Mercury, where she leads strategic communications, crisis management, and specializes in public affairs and community engagement in electoral politics. She is the first Black woman to hold this role in the firm's history. An award-winning communications strategist with a penchant for media activism, she is a nationally esteemed expert that understands the value of third-party coalition-building and prescient issues related to diversity, inclusion and strengthening relationships for corporations working in communities of color.
Rhonda Spears Bell is the Senior Vice President of Marketing and Communications at the National Urban League in NYC. She is responsible for the strategic development and execution of all marketing and digital strategies, media relations, and major conferences and events, as well as solidifying the Urban League's brand identity nationwide.
Shani Drake is the Director of Marketing & Public Engagement for the National Center for Civil and Human Rights. In these roles, she leads the strategic direction for programming at The Center and heads its marketing efforts. She also leads the Campaign for Equal Dignity as the Campaign Manager.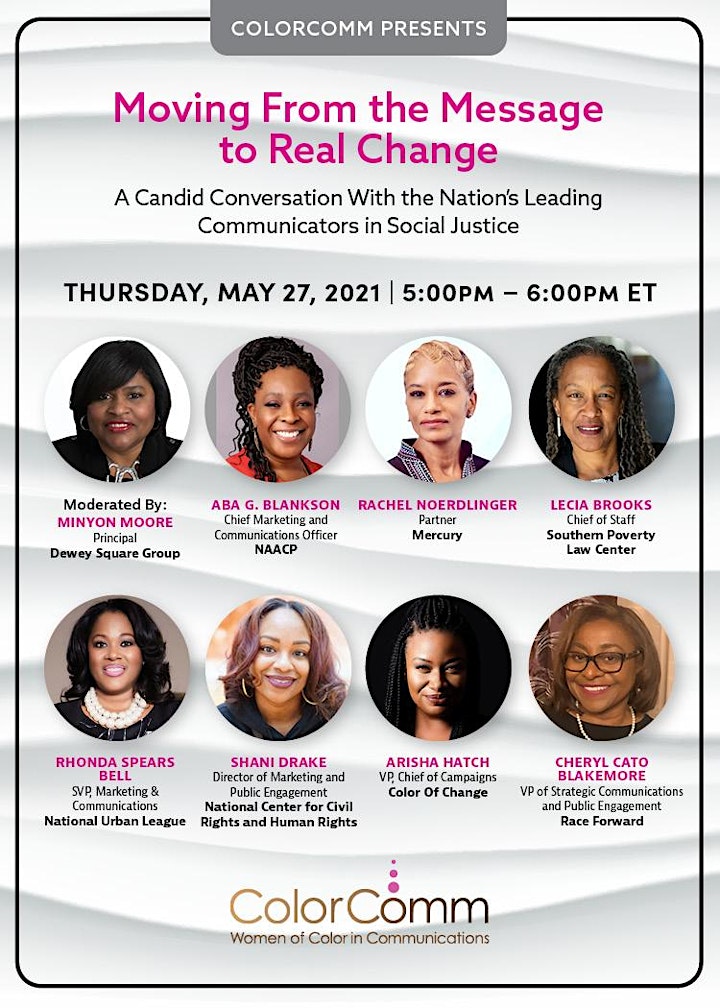 Related Events