Families & Youth Working for Social Justice
March 22 @ 6:30 pm

-

7:30 pm

EDT
Event Navigation
Families & Youth Working for Social Justice
Learn how you can support and work alongside those who are already working to improve social justice and racial equity in Sarasota County. Join the conversation featuring SRQ Strong's facilitators of the Raising Anti-Racist Children parenting workshop, local families and community groups that work directly with youth and families.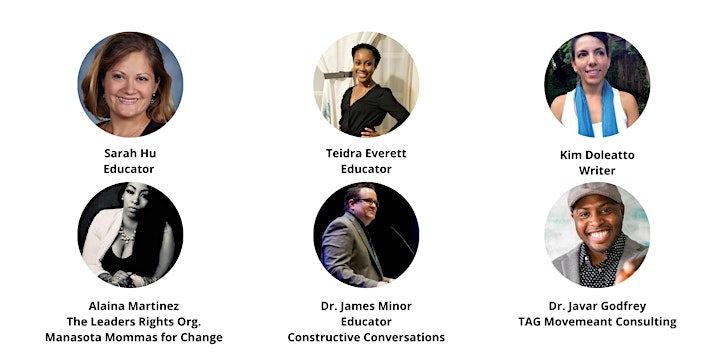 Featured Speakers:
Sarah Hu is a veteran public school teacher. Sarah believes in the power of individuals to have a meaningful impact on their neighbors, co-workers, friends, and family, and in this way change their ever-widening world.
Teidra Everett is a wife, mother, and educator. She enjoys traveling and spending time with family. She has a deep passion for promoting kindness amongst children. That's where it all starts!
Kim Doleatto wrote about topics like early childhood education and development for the Sarasota Herald-Tribune, and now writes for Sarasota Magazine. She is a mother, active community member, and Italian-Canadian immigrant. She believes that reflection and conversation are essential steppingstones to build a world where equality is a given for our children.
Alaina Martinez is a representative of Manasota Mommas for Change and The Leaders Rights Organization. Manasota Mommas for change is an inclusive group for progressive moms in the Sarasota and Manatee area. The Leaders Rights Organization seeks to promote and facilitate social, political, economic, and environmental changes within the community. Providing hundreds of hot meals in Sarasota every week, bringing comfort and fellowship in a time of uncertainty.
Dr. James Minor is the president and founder of International Education Consultants and the coordinator of Riverview High School's world-renowned International Baccalaureate program. With a long history of speaking, training, and teaching, Dr. Minor specializes in leadership training, conflict resolution training, educational consulting, non-profit management and sustainability, and social justice workshops.
Dr. Javar Godfrey is a man of the people, a promoter of justice, and an advocate for social equality. His dream to bridge the gap between his community, education, and the youth around him inspired his specialized programs with youth and their families. Dr. Godfrey takes great pride in his TAG MoveMeant Consulting business; Training A Generation in which youth embark on a journey into adulthood.
Related Events